Market Update – March 13th, 2022
Written by Doug Ciocca
Good afternoon,
Financial markets have continued their struggle in 2022. Last week marked the 5th consecutive weekly drop in the Dow Jones Industrial Average while the S&P 500 and NASDAQ extended their weekly losing streaks to 41.
The "churn" has been so unpalatable that it may obscure some underlying resiliency in the indexes. As noted in the bottom 1/2 of table below, all 3 broadly monitored market measures have been able to hold above the low levels put in on February 24th.2

This is remarkable considering the harrowing headlines that are coming out of Ukraine every day and when consumer and investor sentiment, in a word, stinks…see below: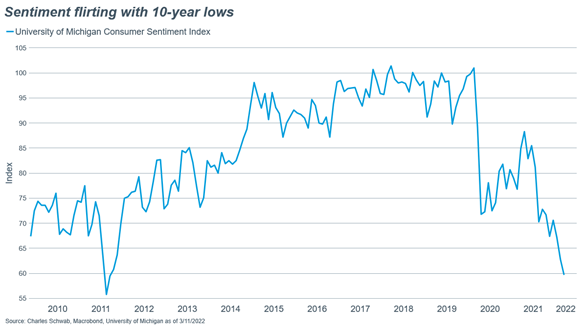 For context from the data provider, the University of Michigan3:
The report showed that sentiment cooled unexpectedly to the lowest level since 2011, declining to 59.7 from February's final reading of 62.8, and versus the 61.0 level expected by analysts surveyed by Bloomberg. The report also showed that 1-year inflation expectation was 5.4% versus the 5.1% expected, the highest since December of 1981.
And from CNN Business: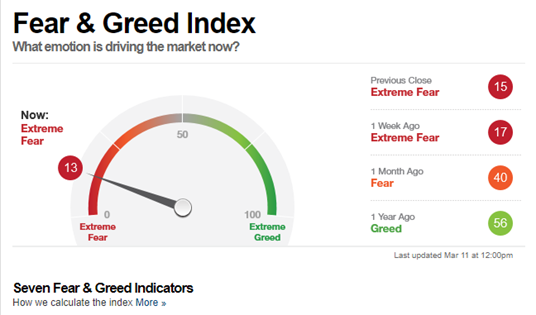 As you may imagine, when financial markets tilt so heavily in one direction, often opportunity emerges in the opposite: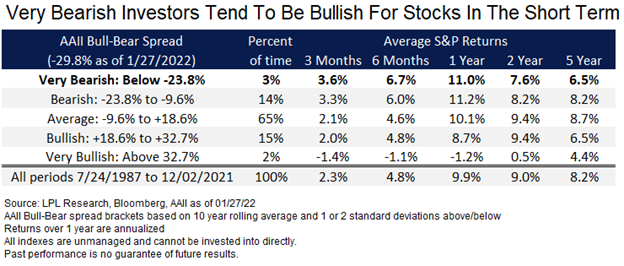 The current "Bear-Bull Spread" is -21.8, so it was wider when this chart was published on 1/27/22 and then hit its widest point on 2/24/22 (the current lows referenced above) at -30.34.
This is not to suggest that a market bounce is imminent, but only that stock prices, as they are prone to do, reflect outsized adverse economic consequences in advance of their arrival. In this way, the market attempts to insulate itself from negative surprises – it embeds fear and foreboding for fortification.
And in addition to concerns and disgust with the atrocities in Ukraine, add the incidence of a Federal Reserve meeting this week to the laundry list of loathing.
Yes, the Fed meets this week, with an announcement on Wednesday afternoon that will very likely reveal the first of, what is presumed to be, several hikes in interest rates. This is widely expected with the Futures Market predicting a 100% probably of a 0.25% lift in the Fed Funds Rate.5
Interestingly, and perhaps in recognition of the price discounting that is consistently conducted, in each of the previous 8 rate-hiking cycles, going back 40 years, the S&P 500 was higher 12 months after the first increase – every time: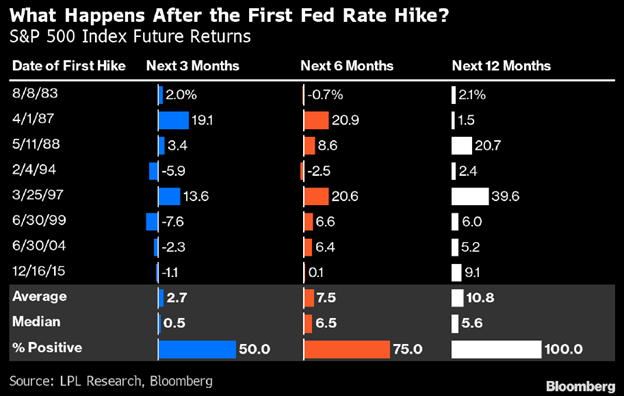 And over the last 30 years, when the Fed has engaged in 4 distinct policy-tightening pivots, none have uniformly upended stock prices. Remarkably, the industry sector that has historically exhibited the highest amount of volatility – including this year – going into the initial rate hike, technology, tends to top the performance charts on an average annual basis as they are enacted: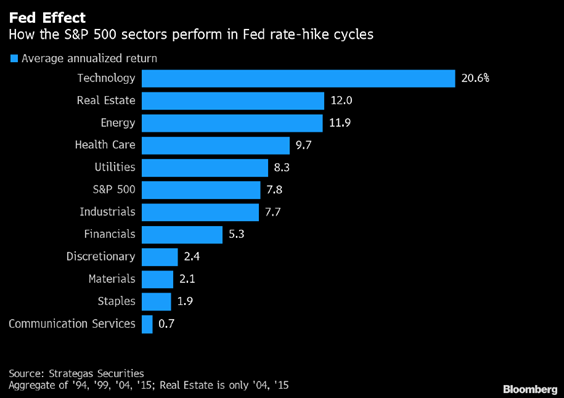 It is custom in our communication to emphasize optimism and provide perspective and today's submission is no different. There are many crosscurrents hitting the capital markets right now – those I have identified today and others we've mentioned along the way: inflation, valuations & deglobalization to name a few.
But I'll wrap with a recommendation from a prior Kavar Market Update and then offer an interesting insight from the research team @ Bespoke.
From Kavar: It is important to be opportunistic within your objectives. Price dislocations are short-term in nature. Guessing when they'll end is nearly impossible. Knowing they will end is responsible. Retaining an adherence to a well-designed asset allocation is key to a long-term investing success and setting aside ample cash for a cushion – out of the path of harm – is a key to a short-term peace of mind.
From Bespoke: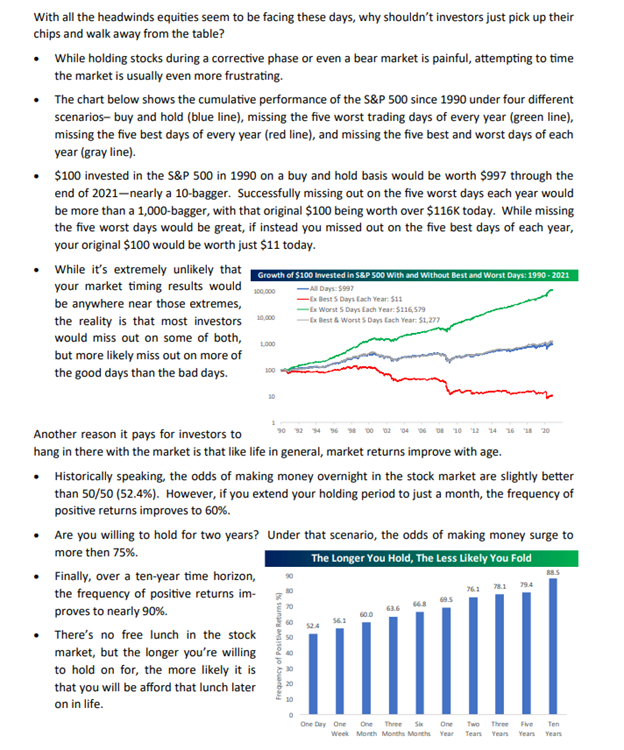 We'll stay in close touch this week and please do not hesitate to reach out to our team with questions/comments on how the information presented in this update is impacting your portfolio specifically.
Have a nice rest of your weekend
Prayers for all those in Ukraine, dc
1 Source: Bloomberg Market Data
2 Source: Bloomberg Market Data
3https://data.sca.isr.umich.edu/
4 https://www.aaii.com/latest/article/16427-aaii-sentiment-survey-optimism-and-pessimism-back-at-unusual-levels
5 Source: Bloomberg Market Data
6 https://media.bespokepremium.com/uploads/2022/03/The-Bespoke-Report-031122-r6nb5.pdf
The views expressed herein are those of Douglas Ciocca on March 13, 2022 and are subject to change at any time based on market or other conditions, as are statements of financial market trends, which are based on current market conditions. This market commentary is a publication of Kavar Capital Partners (KCP) and is provided as a service to clients and friends of KCP solely for their own use and information. The information provided is for general informational purposes only and should not be considered an individualized recommendation of any particular security, strategy or investment product, and should not be construed as, investment, legal or tax advice. Different types of investments involve varying degrees of risk, and there can be no assurance that any specific investment or strategy will be suitable or profitable for a client's investment portfolio. All investment strategies have the potential for profit or loss and past performance does not ensure future results. Asset allocation and diversification do not ensure or guarantee better performance and cannot eliminate the risk of investment losses. Charts and graphs presented do not represent the performance of KCP or any of its advisory clients. Historical performance results for investment indexes and/or categories, generally do not reflect the deduction of transaction and/or custodial charges or the deduction of an investment management fee, the incurrence of which would have the effect of decreasing historical performance results. There can be no assurances that a client's portfolio will match or outperform any particular benchmark. KCP makes no warranties with regard to the information or results obtained by its use and disclaims any liability arising out of your use of, or reliance on, the information. The information is subject to change and, although based on information that KCP considers reliable, it is not guaranteed as to accuracy or completeness. This information may become outdated and KCP is not obligated to update any information or opinions contained herein. Articles herein may not necessarily reflect the investment position or the strategies of KCP. KCP is registered as an investment adviser and only transacts business in states where it is properly registered or is excluded or exempted from registration requirements. Registration as an investment adviser does not constitute an endorsement of the firm by securities regulators nor does it indicate that the adviser has attained a particular level of skill or ability.